There are few things that can be enjoyed while enduring a lung infection. Yet something's surpass even illness! Wednesday September 19th was a day where I woke up very ill and took a trip to the clinic only to find out my cold was in fact an infection. Would this deter me from the evening I had been looking forward to for weeks? Not on your life. I'm from Maritime Canada… we're made of tough stock.
My chosen family and I arrived at the Rivoli at 9pm sharp for the much-anticipated Sleddogs CD Release party. I spoke with my MYSPACE friends (the Dogs) before the show, (as well as Derek — their AWESOME crewman!) It was great to finally meet after months of corresponding that began as a result of a photo of me dog sledding in northern Manitoba last winter. It's that easy to make a connection!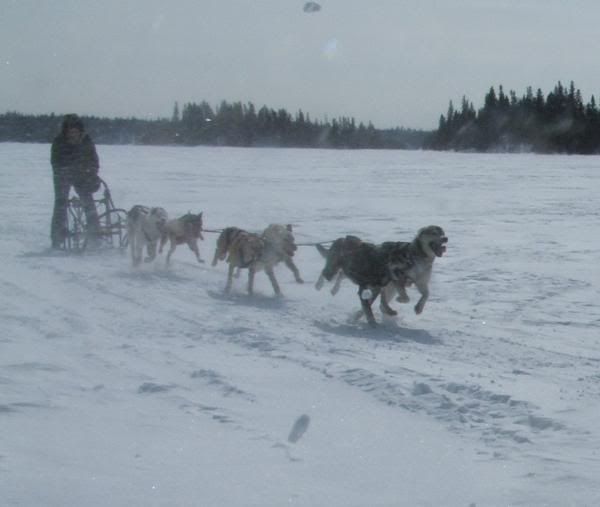 Kenny, Michael, and Eric took the stage and immediately owned the room. Their sound is lush and full. If one weren't looking at them one would swear they were a 5-piece band. Their grooves are full and thick! Michael plays guitar with finesse. He magically sounds like he's playing rhythm and lead simultaneously; this is WITHOUT the aid of electronic magic. There is no backing track here — only off the floor ass kicking jams! Eric has a hammering beat completed with the most slamin' drum fills I've heard in a while. Then there's Kenny — out front rounding out the sound with his bass licks. If they were to stop at being an instrumental trio I would have left a satisfied camper!
Yet, this is not where it stops. The commanding tone of Kenny's vocals ruled the room! Every song delivered flawlessly. Michael's harmonies and backing vocals are nothing short of perfection. I'm awe struck that he is able to play guitar like he does and throw down his vocals at the same time.
Rock bands don't get the artistic respect they deserve. Often we fail to see past the hook of a tune or the pumping beat that gets us tapping our feet, banging our heads, or air drumming. I was so fortunate to get a chance to see the Sleddogs in this intimate setting. It served as a reminder of the artistry behind the music! This band of musicians is tight!
It was a thrill to jump on stage and grind on Kenny's bass! I'm no rock star, but hammering on that open 'E' string was a trip. I was able to keep the beat while banging my head fervently 🙂 You can take the girl outta the 80's but you cant take the 80's outta the girl!
Following MY debut at the Rivoli (yeah right!) we were able to socialize for a while longer. It was such a pleasant time spent with these genuine guys from Canada's west coast. They are the real deal! Just good guys making music and having fun with their audience!
I highly recommend you ALL check out the Dogs at: www.myspace.com/sleddogs Give them a listen and WHEN you like what you hear – download their tunes (LEGALLY… nobody wins when music is stolen) or pick up their CD's at your local record store. While you're at it, why not go to Muchmusic.com and request their videos! These lads are worth supporting!
Tags: Bass, CD Release, Drum, Guitar, Much Music, Myspace, Pamela Detlor, Rivoli, Rock, Sleddogs, Stage, Toronto, Vocals