Having been born without a single athletic bone in my body, I am in awe of the skill of these competitors.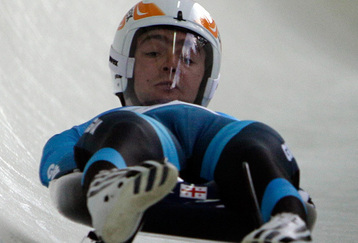 The loss of luge racer, Nodar Kumaritshvili is heartbreaking. In 21 years of life he made his way to stand with the best in the world. This is to be honored. My heart aches for his family, friends, and countrymen.
I have been glued to the games since the magnificent opening ceremonies. I've also been watching the, self proclaimed, "anarchists" claiming to be protesters. News flash: Smashing the property of others and running wild through the streets is not anarchy – it's stupidity: You have earned the GOLD MEDAL for Group Stupidity, congratulations, IDIOTS!
Where those true protestors are concerned, those who demonstrate against the games peacefully: I may not agree with your logic, but I respect your right to gather. I'm sure there are plenty of deals made by the "money people" to get a piece of the Olympic action. I know there is great financial debt that becomes the burden of taxpayers. Yet: for me the games are not about corporate greed or government spending. They are about the athletes who have given most of their years on earth striving for personal excellence. It is about national pride and worldwide solidarity. Homelessness is a global epidemic. So much more has to be done everywhere (especially by the elect). However, attempting to diminish something positive will never repair something negative.
I am Canadian. I don't have much competitive edge in me. I'm proud of every Olympian, whether I know them by name or not. I want Canada to take home as many medals as possible. Yet, every time an athlete goes down during their event, I hold my breath. Their home country is irrelevant. They've all worked hard to be there and it is over in an instant. As viewers I think we can all feel their pain.
Image By Steve Russell/Toronto Star

During the women's moguls many athletes went down. Yet all got back up and finished the race. There were heavy sighs and headshakes, then all smiled and waved to the crowd, while awaiting scores that would have them in the bottom of the pack. When Kristi Richards of team Canada went down hard, she got up, paused a moment, put her ski back on, faced the crowd, and raised her arms as if to ask, "Do you want it?" The crowd cheered wildly and Richards continued down the run to complete her back flip/full rotation, in the air. She executed the trick perfectly and glided through the finish. I was so proud to be Canadian. Richards takes the gold in sportsmanship. It is far easier to win with grace than to lose with it.
I can't speak for the athletes, but, truly, I have yet to see anything but winners. In a world rife with struggle and disillusionment it is an honor to witness such determination. The best of the best have come to triumph in sport. They inspire children to strive for dreams and believe in possibility; to me, this is worth more than money spent.
Thank you, Olympians, trainers, coaches, judges, organizers, volunteers, media, et. All! Keep up the great work!
Tags: 2010, ahtletes, anarchists, anarchy, and countrymen., athlete, athletic bone, attempting to diminish something positive will never repair something negative, back flip/full rotation, believe, best of the best, blog, bronze medal, burden of taxpayer, Canada, coach, coaches, corporate, crash, demonstrate against the games peacefully, determination, deth, DIES, dreams, Family, financial debt, Friends, games, gold medal, Government Spending, greed, home country, Hope, I AM CANADIAN, idiots, inspire children, It is far easier to win with grace than to lose with it, judges, Kristi Richards, Losers, luge racer, media, Money, money spent, national pride and worldwide solidarity, news, Nodar Kumaritshvili, Olympians, Olympics, opening ceremonies, organizers, Pain, Pamela Detlor, Pondering Life, possibility, Pride, Protesters, put her ski back on, silver medal, Skiing, skill, slider, sports, sportsmanship, Strive, striving for personal excellence, struggle and disillusionment, stupidity, Team Canada, The Thought Vox, The Winners & The Winners, Train, trainers, training, triumph in sport, value, Vancouver 2010, vandalism, vandals, Video, volunteers, Winners, winter games, women's moguls, World