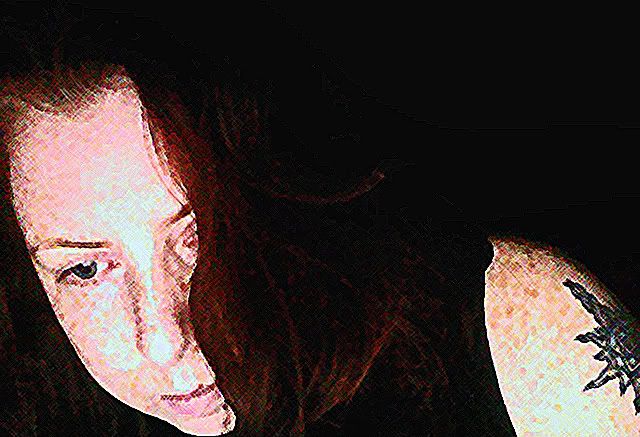 Thoughts:
1) I don't think I have all the answers. Sometimes I don't even understand the questions.
2) I'm a very positive person ~ yet, some days I'm only positive that others were born to get on my last nerve.
3) I'm ready to be OUT of menopause: sleepless nights, flashovers, and angry, ANGRY, dreams. I'm finished with these here eggs: Dearest Mother Nature: feel free to take em all in one fell swoop.
4) I never thought anyone could be cheesier than Billy Ray Cyrus… then along came his spawn: Miley, bad posture, big ego, and even bigger mouth, Cyrus.
"I think we're both deeper than normal people–what they think and how they feel…" ~ Miley RE: She & New Beau
May she live a long healthy life and become mature enough to apologize to all of us trapped in grocery lines, reading pull quotes from her arrogant little self. She makes me miss the good old days when Paris Hilton was EVERYWHERE, saying intelligent things like: "Loves it!"
5) Dear media factions, please stop giving airtime, press, and a false sense of importance to mediocre celebrities. Thanks.
Footnotes:
1) I went to the store to buy a frozen dinner. It's a rainy, frozen dinner, sort of day. The man who owns the store said, "Why you buying crap? Eat something good." So I put the frozen dinner back and bought baby bock Choy, snap peas, and Chinese noodles. Which cost LESS than the frozen dinner. When I asked the man if there was any seafood seasoning in the noodles (I hate seafood – yes, I am from PEI) he said, "Haven't you been coming here long enough to read Chinese?" HA! I love him and his wife and their little mom & pop grocery. I bought the noodles.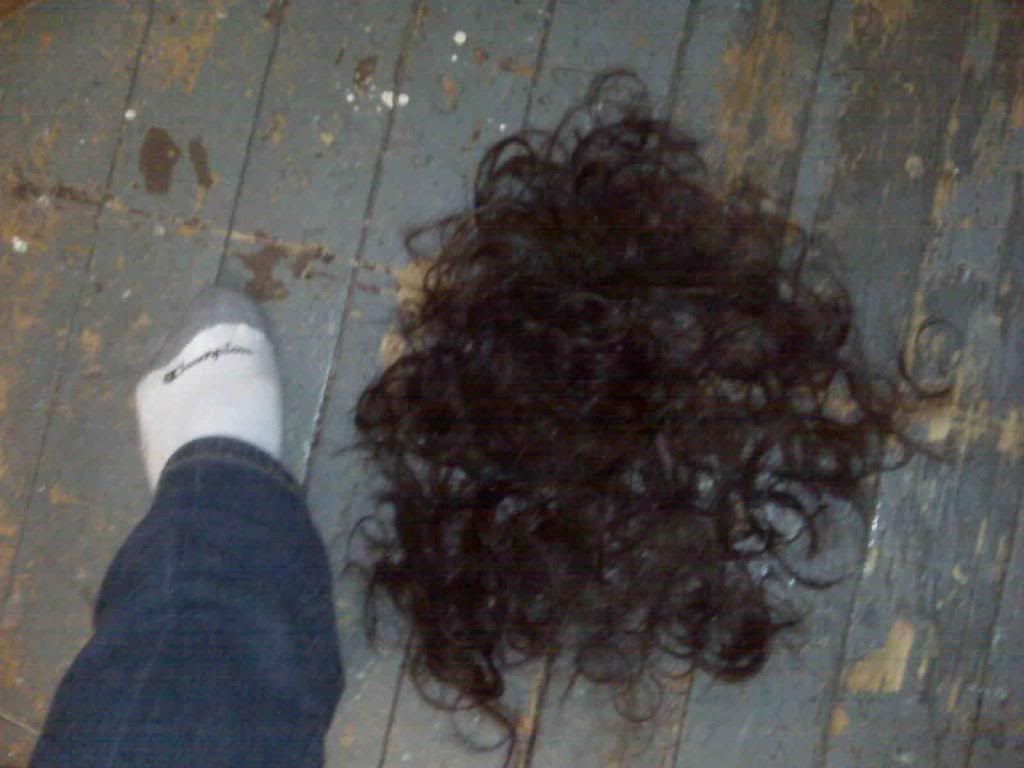 2) I decided I needed a change and had my nephew chop off about a pound of my hair. I was inspired by (the late) Marc Bolan of, 1970's rockers, T-REX. Yes Ellen is bringing back dancing and I aim to bring back 70's Glam Rock Locks – This cut: circa 1973. No: I don't want to' be a dude – I just love the hair.

3) If the hair doesn't work out: I got the BEST HAT EVER (and I LOVE HATS!), in the mail from my pal Loony! What a delightful surprise, to get an unexpected envelope with a handmade hat from a friend! I Love it! Thank you Looney! Xox
Loony is one of the fantastic women in "Meeting In the Ladies Room." You can catch up with her and her Northern Canadian adventures/photos at: loony's shoeless acres. You won't be disappointed!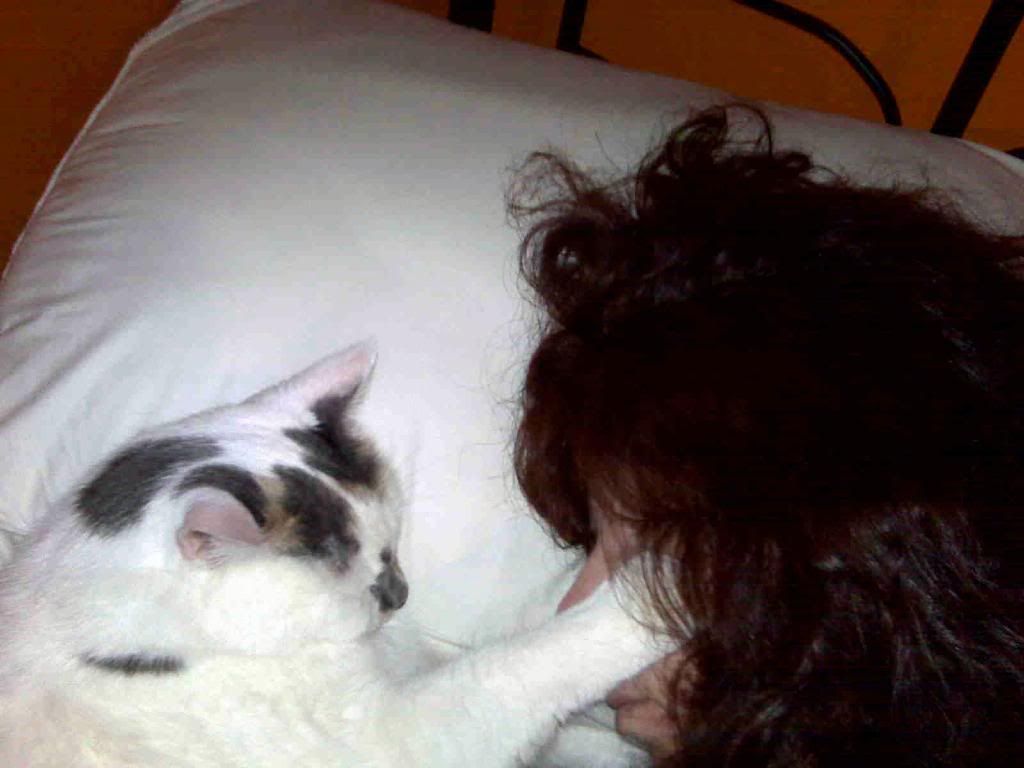 4) When Riley died, Beanie stopped sleeping in the bedroom, and she wouldn't get on the bed. If I put her there she would hiss and run away. After seven months she started sleeping in the bedroom closet, as far from the bed as possible. I guess we all mourn our own ways. Just a few days ago, eight months since we lost Riley, Beanie returned to the bed. At first I was touched, even choked up. Then I remembered how much room 23 lbs of cat takes up. I also remembered that she hogs the pillows and has to have at least one paw touching me at all times. Sometimes it's hard to breathe. But I am glad she's a happy fur ball again.
5) Where the Future Shop mess is concerned: I took the matter to the twitterverse. Within 1 hour of my blog post and numerous re-tweets, Future Shop contacted me and they told me I would be contacted by customer service. Within 24 hours the store called and told me my computer was ready, however, I still owed $200+ dollars. I was furious and returned to twitter with the matter. Many tweets were posted, lots of support was given by my fellow tweeps. Future Shop contacted me again through direct message on twitter, to let me know I would not have to pay a cent. Thank you to Future Shop for my complimentary terabyte drive.
THANK YOU my fellow tweeps and CHEERS to the power of social media!

In honor of my new hair: T-REX!
Tags: 1970's Rockers, 1971, 1972, 1977, airtime, and a false sense of importance, and even bigger mouth, Animal, answers, bad posture, Bang a Gong, bed, big ego, Billy Ray Cyrus, blog, Blogger, Book, Cat, celebrities, Change, cheesier, Children of the revolution, Chinese, chop, Customer service, dancing, Detlor, Died, Eggs, Ellen, flashovers, Footnotes, frozen dinner, funny, Future Shop, Get it on, Glam Rock, grocery, Hair, Hair cut, Hat, hate seafood, healthy, homemade, Humor, I think we're both deeper than normal people–what they think and how they feel, inspired by, Kitten, lines, Live Music, Locks, long, Loony, loony's shoeless acres, Loves It, Marc Bolan, media, Media factions, mediocre, Meeting In The Ladies Room, menopause, Mess, Miley Cyrus, Mom & Pop, Mother Nature, Music, Negative, Nerve, Northern Canadian adventures, one fell swoop, Pal, Pamela Detlor, Paris Hilton, paw, PEI, photos, Pianist, Pondering Life, positive, Power, press, pull quotes, questions, Random, Riley, Rory Beanie Detlor, shop, sleep, sleepless nights, social media, SweetPea, T-REX, tarabyte drive, The Thought Vox, Thoughts, Tweeps, Twitter, Twitterverse, Video, Writing