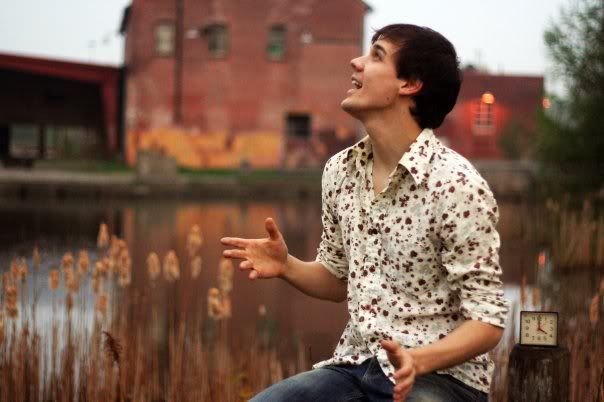 He's been called a "Folkie John Mayer," a "Masculine Joni Mitchell," and a "More Pensive Jason Mraz." Folk, Pop, Soul, or Jazz: no matter what category Trevor slides into ~ the sound is sublime!
Southern Ontario native, Trevor Campbell is on the verge of releasing his finest collection of songs to date. I fell in love with the voice and the sweetness of Trevor when I happened into a show at the hip, Kensington Market, venue: "Bread & Circus," in early 2009. It was impossible to leave without purchasing a copy of Trevor's CD, "Patterns." Thank goodness for digital uploading, or this little record would be in a worn out heap by now.
May 6th, 2010 Trevor will be joined by his full band at Toronto's, RIVOLI, to showcase his new album: Little Thieves. The band consists of the following stellar cast of musicians: James Everett (bass), Liam Montgomery (drums), Danielle Getz (BG vox), Mariel Gonzalez (cello), Kelly Lefaive (violin), and Daniel Abrahamson (keys). The evening will be opened by the lovely vocal stylings of Sara Kamin and Allison Long.


Trevor was kind enough to give some time (& PRIZES) to The Thought Vox, for a few questions:
All who comment will receive a FREE mp3 of "Bird On A Wire" and will be entered to win one of Three Prize Packs: Autographed copies of "Patterns" & "Little Thieves." Prizes will be drawn/winners notified Sunday May 2nd: GOOD LUCK!
When did you know music was in your heart/soul and this was the road you would travel?
I'd always loved music and singing, but my whole childhood I didn't do more than plunk out melodies on the piano. When I was 15, I moved to a little coal town on the Ohio river (true story; not to be confused with Flashdance/Footloose), and I'd inherited my brother's old clunker of a guitar. I had nothing to do in this town (read: NOTHING), so when I'd come home from school, I'd pick up the guitar and try and figure out how it worked. My mom saw my interest and told me that if I went to lessons and practiced, she'd buy me a decent guitar. So that's how the musical side started. At the same time, I had a really close friend who was always pushing me to do things that scared me… and she told me to try writing a song on the guitar. It was a daunting prospect… and I can't remember what it was about – but I did it. And I remember realizing that this would be a great way to get my feelings out and sing. At 15 I was so introverted (coal town + gay + teenager = you have got to be kidding me), and songwriting and singing really became ingrained as a private escape for me. I don't think I really realized how important it was for me at the time, but I really latched on to it.
What musicians inspire you?
As a Sagittarius, I have a hard time picking favorites! I like honest music, and I love storytelling, and I love people that work hard. In that respect, I love artists like Joni Mitchell and Ani DiFranco who really busted their hump to get somewhere, kind of like a one-(wo)man army. And to me, that sort of honesty in songwriting is awesome – not just flowery metaphors and such, but also cold hard facts. And I love the songwriting of Leonard Cohen, and Bob Dylan – big, epic songs; lots of 3rd verses – that sort of thing. I like meaty songs. And I love artists like The Cardigans, Corinne Bailey Rae and Emiliana Torrini who don't feel tied down to one style of music and don't shy away from certain material because it may confuse what people think of them. I like brave musicians!
You've spent 16 months writing/recording "Little Thieves," how was the process different from what went into "Patterns?"
It was very different – I recorded Patterns myself on a little setup that ran off of my laptop. The whole thing was recorded in the house I was living in at the time, and I engineered the whole thing. And I tell ya – there's a reason people learn how to engineer a recording! I think trying to do everything really gave me an appreciation for all the individual jobs needed to be filled, and so when I was looking for people to work with on this CD, I had more of an idea of what I wanted. The biggest challenge was adding instruments to the songs, though. I'd written everything on only guitar, and had been playing the songs for a little over a year (some of them longer), so it was very personal for me to add new instruments to the arrangements. Sometimes we'd add something and it would be all wrong, and we'd just have to start over. Some parts were the perfect fit the first time we tried them. Also, as far as working with the musicians that were on the CD… I met them all in different ways! Lots of weird connections – but I felt really lucky to get to play with everyone who was involved. Also, I rented out one of my favorite bars and musical stomping grounds, the late Concord Cafe, for four days to record the CD. We built a studio space in the back and over 4 days recorded most of what's on the album. Then, we moved to my engineer and drummer Liam's studio to record the last little bits. So, it was different in almost every way!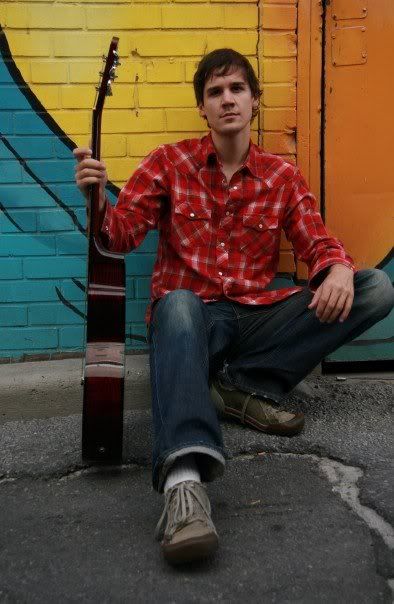 What inspires you to craft a song?
I'm a bit of a sponge, so I like to really digest everything around me. And I read a lot of novels, so I have a lot of stories lying around in my brain. Usually, if I've been stewing over something for a couple of days, or letting an idea run through my head, I'll sit down and try and get a mood going with the guitar. Then sometimes it just comes right out. Other times, you have to lure it out somehow… play something that it likes to kind of 'charm' it out. I start almost all of my songs with music.
You've been well received in all parts of Ontario, Are there plans to tour the new record far and wide?
Thank you! And definitely! This one was a long time coming and is going to get a lot of exercise! I anticipate getting my traveling shoes on sometime around the fall.
If you could jam with anyone living or dead, who would it be?
Ella Fitzgerald and Joni Mitchell and Ani DiFranco. We would ride around on a bike with four seats and take turns singing the main melody.
Where do you see yourself, musically, in five years?
I don't mind where I am, as long as I'm still enjoying it!
Outside of music, who is Trevor Campbell? That's easy to answer, right ;)?
This is pretty close to it, if you don't mind a quote!
I am part of all that I have met;
Yet all experience is an arch wherethrough
Gleams that untravelled world, whose margin fades
For ever and for ever when I move.
How dull it is to pause, to make an end,
To rust unburnished, not to shine in use!
As though to breath were life. Life piled on life
Were all too little, and of one to me
Little remains: but every hour is saved
From that eternal silence, something more,
A bringer of new things; and vile it were
For some three suns to store and hoard myself,
And this grey spirit yearning in desire
To follow knowledge like a sinking star,
Beyond the utmost bound of human thought.
~ Alfred Lord Tennyson: Ulysses
The MOST important question: Do you have any pets (loving animals is very important)?
Yes, yes, yes! I love animals. Me and my partner have two cats – they're both from the Toronto Humane Society. Mine is 2 and looks like a kitten and his is 9 and has a face like a tin of canned salmon. But we love them both!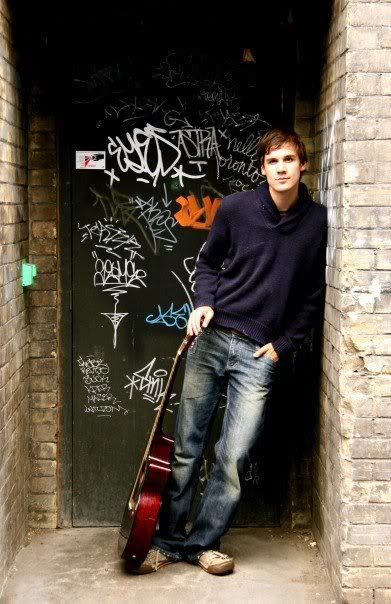 Friend Trevor on ~ Facebook
Join him on ~ MySpace
Check out his ~ Official Home
Follow him on ~ Twitter
Have a look/listen ~ YouTube
Photos By: Zak Kearns & Jo-Anne McArthur
Property of Trevor Campbell & Trevor Campbell Music
May 6th ~ Little Thieves CD RELEASE ~
RIVOLI ~ 332 Queen Street West
Toronto, ON
M5V 2A2
(416) 596-1908 W/ Sara Kamin & Allison Long
8:30pm Doors ~ 9:00pm Show
$15 or $20 ~ Includes CD
For Advance Tickets: trevor@trevorcampbellmusic.com
OR call 416.629.1700.
AND THE WINNERS ARE:
Moike
Tori
Jeanne
You will be contacted for mailing information. Prizes will be sent out after the May 6th CD Release Party!
Thanks to all who spent some time reading about Trevor!
Tags: Advance tickets, Alfred Lord Tennyson: Ulysses, Allison Long, Ani Difranco, autographed, back ground Vocals, Band, Bass, Bird on a wire, Bob Dylan, Bread & Circus, Buy, Canada, Cardigans, CD, CD Release Party!, Cello, collection of songs, Corinne Bailey Rae, Daniel Abrahamson, Danielle Getz, digital, doors, draw, drums, Emiliana Torrini, Facebook, folk, Folkie John Mayer, Free, Gay, gay teen, Giveaway, Guitar, I am part of all that I have met, indie, interview, itunes, James Everett, jazz, Jo-Anne McArthur, Kelly Lefaive, Kensington Market, Keyboard, keys, LBGT, Leonard Cohen, Liam Montgomery, Little Thieves, Live Music, Mariel Gonzalez, Masculine Joni Mitchell, More Pensive Jason Mraz, mp3, Music, musician, Myspace, Native, Ohio river, Pamela Detlor, Patterns, Photos By: Zak Kearns, Piano, pop, prize, prize pack, Q & A, Queen Street West, Queer, Rivoli, Sara Kamin, Scene, show time, Singer, Songwriter, Soul, Sound, Southern Ontario, Sublime, The Thought Vox, Toronto, Trevor Campbell, Trevor Campbell Music, Twitter, Upload, venue, Video, Violin, Vocals, Winners, Youtube