What could be better than the marriage of friendship and art? When my dear friend, Glamma, suggested that we create a canvas together I jumped at the chance!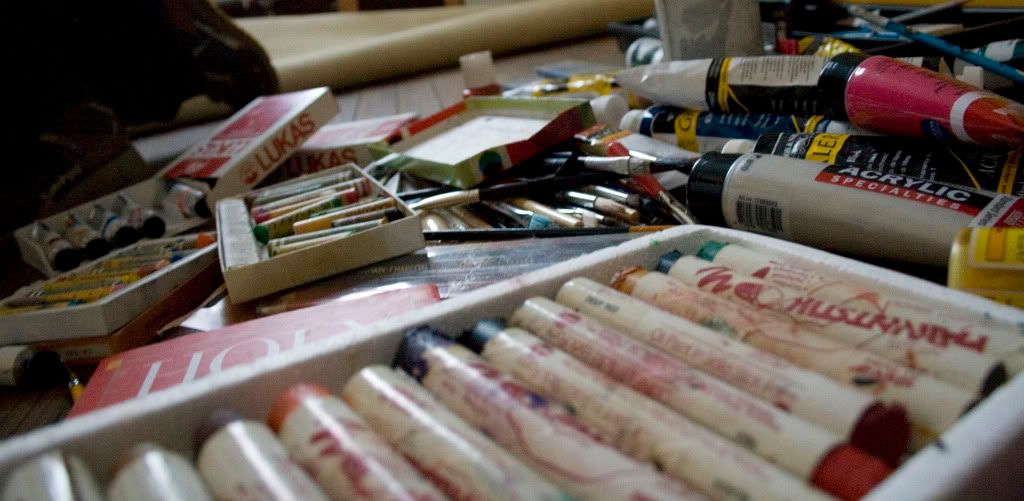 "Between Friends" is the name given to our painting. The piece was created over two days (taking: 18 man/woman hours, 2 chocolate eggs, coke, coke zero, tea, Subway sammiches) using 9 different mediums and a freestyle attitude.
We attacked the canvas and broke most of the "rules" for what NOT to blend together. Using: Acrylic, Oil, Pastel, Pigment, Ink, Quash, Charcoal, Graphite, and Conté Sticks. It was wonderful to watch some elements to repel other elements. Where ink hit pastel it was forced to re-route elsewhere. The results delighted us (art geeks). There was no preconceived plan. We simply agreed that the piece had to represent our spirits, our friendship, and us. To date ~ this is, without a doubt, my most cherished art project.
We started on the floor with every type of art supply dumped around us. I'm a more structured artist. Realism has always been where I'm comfortable. Glamma is great with structure/form and he is amazing with abstract too. In the early stages I was conforming to being rigid and sketched a stone Celtic cross that is representative of my strong spiritual connection. Glamma was just feeling the canvas and design was flowing from him without hesitation.
After 40 minutes I had to stop. We discussed my issue of feeling the need for accuracy. Glamma said I had to just let go and see what happened. I took a breath and went for it.
In the end my cross is still there ~ under layers of paint. The circle of the cross eventually morphed into a sun spiral. The image changed but the emotion didn't. I was able to incorporate the sun and the spirit – both of which are important to me.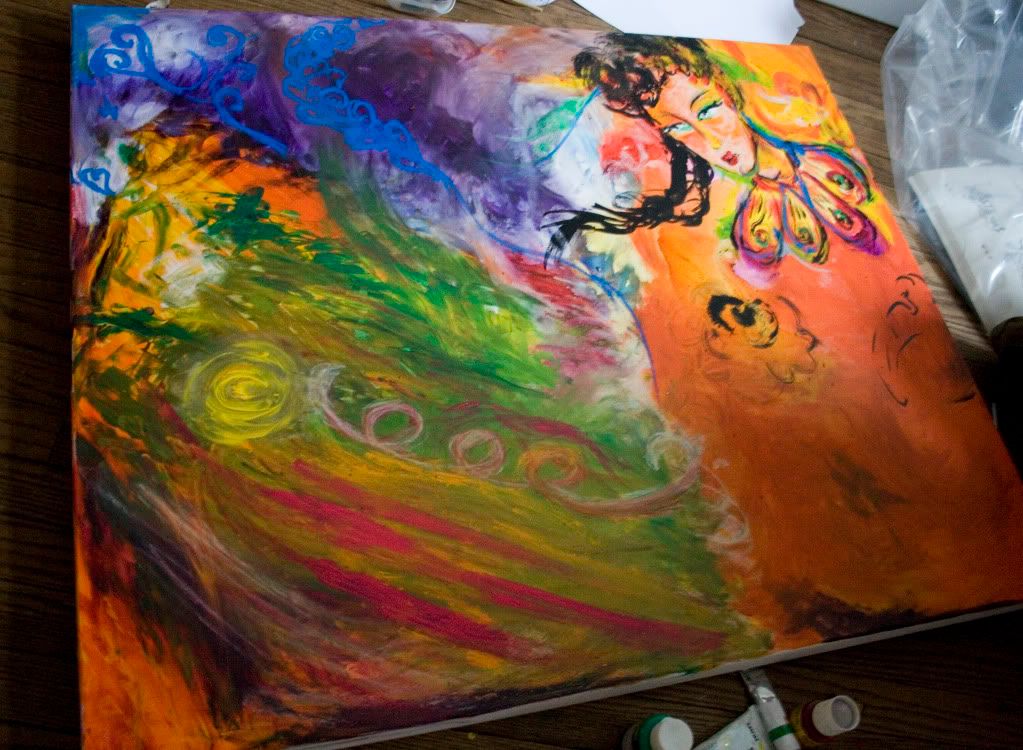 Glamma created the most beautiful girl; her hair flows into the piece and inspired other additions.
One of my favorite elements he added is the OM chant, which he painted out freehand. The words we chose are meaningful to us: Spirit, Zen, Beauty, Free, Growth, Shine. The masculine & feminine symbols represent us, and the Yin/Yang of the planet. We also added symbols for Summer (a season we love), Universal Peace, and three Trinities/Triads (Mind/Body/Spirit or Father/Son/Holy Ghost ~ witch ever suits your soul). There are colours that flow like water, blend like air, anchor like earth, and burn like fire.
Glamma encouraged me to use a pen tube to blow black ink into branches for the cherry blossom trees. I was nervous that I would screw up. They were an element added at near completion. I didn't want to destroy some of the other things we both loved. But, again, he said, "If we hate it, we'll cover it." The branches and blossoms worked out great and I learned a new technique!
This project was a joy and a learning experience, for me. We've done plenty of photo shoots together. Glamma: doing makeup, styling, conception, shots. Me: doing lighting, staging, conception, shots. However, this is the first time we've ever created art together with paint and canvas. It won't be the last!
Many have expressed interest in getting prints of this piece. We've sourced out shops that make high quality Giclee prints and will be ready to take orders soon!
Get Out There And Create!
Join The ART ARMY!
Tags: 11X14, 16X20, 18 man/woman hours, 2 chocolate eggs, 74 years, 8X10, 9, Abstract, Acrylic, anchor like earth, and burn like fire, and us, Art & Books, Beauty, Between Friends, blend like air, body, Canada, canvas, Celtic cross, Charcoal, cherished, Coke, Coke Zero, conception, Conté Sticks, Create, different mediums, elements to repel, Elemnets, Emotion, Energy, Father, feminine, First, flow like water, flowing, Free, freehand, Friends, Gay, Get Out There And Create, Glamma, Glamma Gregory, Glamma Ink, Graphite, Growth, Hand, Hands, high quality Giclee prints, Holy Ghost, Ink, last, Learning experience, lighting, Love, Makeup, masculine, medium, Mind, nine, Oil, OM chant, order, order directly, our friendship, paint, Paint Brush, Pals, Pamela Detlor, Pastel, Peace, photo shoots, Pigment, Place, planet, preconceived plan, Price, Project, Quash, Queer, re-route elsewhere, Realism, Shine, shots, Sizes, son, spiral, Spirit, spirits, staging, structure/form, structured artist, Styling, Subway sammiches, Summer, Sun, Sunspiral, Symbol, Symbols, Take, tea, The Thought Vox, toddlers, Toronto, Triads, Trinities, Universal, universe, Yang, Yin, Zen